We will finally be removing some dead trees around campus, as well as removing some storm damaged trees from last year.
Wes Press – 215 Long Lane – Unfortunately we have lost several trees in the area of the Wes Press building on Long Lane.  Some of these trees were severely injured in wind storms last summer.  Additionally, there are several Ash trees that we killed by the Emerald Ash Borer.
284 High St – Sugar Maple
Last summer we had a severe windstorm move through campus.  At the time we went through and cleaned up as much as we could.  We are now in the process of going back and fully removing compromised trees.  The Sugar Maple on the left of this photo lost one of it's main leaders and the rest will be removed.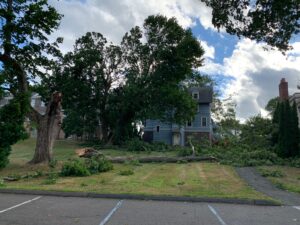 210 Cross St – Norway Spruce
This was another tree lost to a big wind storm last summer.  The root ball is a monster.  It should be very a very interesting removal to witness.