CFA – 1 Ash
During a powerful storm on 5/19/15, a large branch fell on CFA-F, Music Studios (picture #1).  After further investigation the tree appeared rotted/hollow, and there was a visible crack from the location of the break, to the base of the tree.  It was decided that the tree needed to be removed ASAP.  As seen in the 2nd and 3rd photos, the tree was extremely hollow.  It was lucky that only one branch fell during the storm.
The President's House – 1 Maple
During the same storm as above, a Maple was blown over next to the driveway at the President's House.  As you can see in the first photo, the base of this tree was extremely rotted/hollow as well.
Davidson Health Center – 1 Maple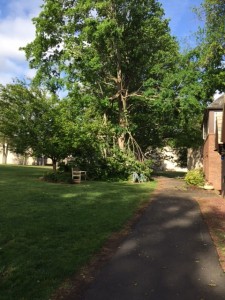 During the same storm as above, a large limb was knocked off a tree on the south side of the Davidson Health Center.  The lost limb caused too much damage, and so the rest of the tree had to be removed.
95 Pearl St – 3 Ash Trees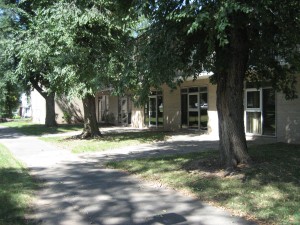 We will be installing a new patio space at this location.  The purpose of this patio is to create an outdoor learning and gathering space.  Currently the area has some serious drainage issues.  Due to this there will be a significant amount of grading and drainage work during the project, this work will damage these trees beyond repair.
Foss Hill – 2 Weeping Cherries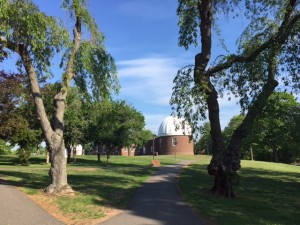 Many of the sidewalks on Foss Hill need to be replaced.  We will be starting a project to address these needs.  The 2 Weeping Cherries are already in a stressed state and the new sidewalk will severely damage the root system of the trees.  These trees need to be removed.